THIS IS HOW WE MAKE OUR QUALITY NON-GMO SEEDS ► PLAY VIDEO
Follow us on Instagram   http://instagram.com/sunflowerselections/
NEW FOR 2023 – LEMON CUTIE™ TAKES A FLEUROSELECT GOLD MEDAL!
A prestigious Fleuroselect Gold Medal for our new dwarf sunflower, Lemon Cutie­™, highlights a fantastic sunflower year for us.  Breeder and co-owner, Olga Chengaeva,  knew in her first year of selection she had found a new and different sunflower.  Now 7 years later,  we share it with our growers for the first time .  It's great for borders, pots, or as a single specimen accent plant.  Last year's Lemon Pixie™ was a hit  as was ProCut®Peach.  We've stocked up on both for this year.    Our garden varieties and ProCut® series with their unique colors are sold around the world.  Now into our 46th year of ornamental sunflower breeding,  we continue to introduce exceptional sunflowers.  Stay tuned – more to come!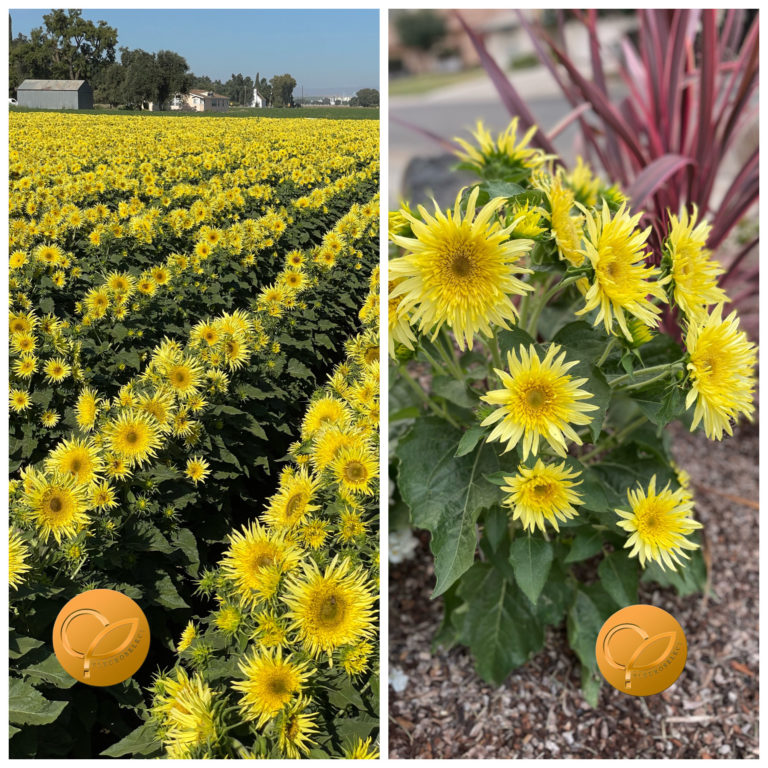 ProCut®White Nite and ProCut®White Lite  have become popular in Spring bouquets,  Easter, baptisms and weddings – they can be used year around.   Check out our Tips page for ideas on dye.   And don't forget we offer  ProCut® Orange DMR ,  ProCut® BiColor DMR , and Procut®Gold Lite DMR  having resistance to the most frequently found  races of downy mildew.
WE ARE INNOVATORS and have created an entirely new concept in sunflowers called SunFill™.  Why not SunFill ™ as fillers with any kind  flower arrangement?  SunFill™Purple and SunFill™ Green were selected for their colorful buds.  Cut the stems before flowering.   Use them as a filler to accent your arrangement.   Fast and easy to grow.
We continue to add new information to our Library for the benefit of all sunflower growers.  You will find lots of information on cultural practices used to grow sunflower and solve problems that you might encounter.
Remember we breed the sunflowers we sell, and we produce the seeds.   Flower growers around the world trust our work.  Our seeds are produced in California under strict quality standards.  We clean our seeds meticulously before packaging and SunflowerSelections.com monitors the germination on a continual basis.   We package and ship our seeds from our temperature controlled warehouse here in California.  Our goal is to provide you with the best possible seed quality.
Our mission is simple.  SunflowerSelections.com promises to bring you the best and newest ornamental sunflowers as they are developed and tested by our plant breeders.  Visit us often throughout the year to see the fantastic sunflowers we offer.   And remember, perfect sunflowers start with quality seeds from the source –  SunflowerSelections.com!  Thanks for stopping by!